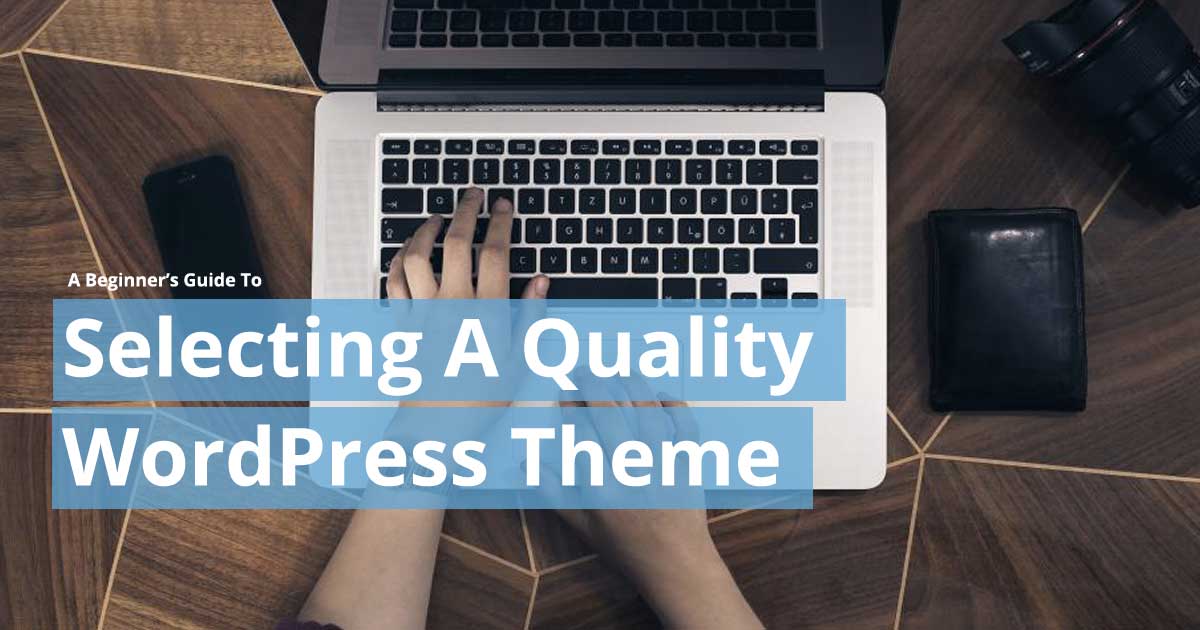 Selecting a quality WordPress theme is crucial for the success of your site. There are many themes available online with different functionality all ranging in price – free to $100. In this article we will walk you through our selection process for choosing a theme that's right for your website. By the end, you'll know exactly what to look for when selecting a quality WordPress theme and where to find one that works for you.
Free vs. Premium Themes
Typically, free WordPress themes aren't built with quality in mind as most developers create free themes as a one-time passion project. Free themes usually will not come equipped with updates, support or documentation which all are a necessity in the implementation and upkeep of your site.
A premium theme will offer all the tools you need to create an aesthetically pleasing, secure site while providing the documentation and support throughout the whole process. Although premium themes will cost you, the price is generally minimum and the result will be worth it.
What to look for when selecting a quality WordPress theme?
The look and feel of your site is the most important step when selecting a WordPress theme. You'll probably be using that theme for the next few years so you'll want to use one that is consistent with your brand identity. Finding a theme that is unique to your brand and modern requires time and research.
What should you look for in the aesthetics of a quality theme?
Customization: Colours, Fonts
Imagery: Visuals are important
Responsive Layout
Latest Web Standards: Currently are HTML5, CSS3
Mobile devices are becoming a part of our every day life (if not already) and your website needs to be easy to use. Did you know over 30% of traffic these days are from mobile devices and that number is on a consistent and steady incline?
A quality theme with responsive design will allow the elements of your website to automatically resize depending on the size of the screen the user is viewing it on. In our opinion, it shouldn't be an option to not have a responsive website as search engines take into consideration how mobile friendly your site is when ranking.
How Do I Tell if the Theme is Responsive?
To see if a WordPress theme is responsive simply open the Demo in a browser and resize the window. If the design reformats to the size of the window, the theme is responsive and mobile friendly.
Now that we know your theme is responsive, another important step in the search of finding a quality theme is cross browser compatibility … the big question is 'how does my theme look in Internet Explorer?'
Testing the Theme for Cross Browser Compatibility
Test the theme out in different browsers and confirm that the theme has been developed to work on all web browsers. You don't want to lose out on a customer based off a poor website experience.
The backend ("behind-the-scenes") of the theme needs to be built with security and performance in mind. A quality theme will be developed in the latest web standards (HTML5, CSS3). Run the demo version of the theme through a W3C Validator to confirm if the theme is well-coded or not.
Another good way to tell if the theme was coded properly is to read the customer reviews. Usually if a customer has experienced something that isn't quite right, that'll be noted in the comments/reviews section.
Tip: Always read the reviews before purchasing a theme. If there are any problems with the theme, a previous customer will have mentioned it. Also, check to see if the developer is responsive to the customers. A good developer and a good theme usually come hand in hand.
How can I tell if my theme was built with Security & Performance in mind?
Site Speed
Site speed is vital to the success of your site – not only for the visitor but it also plays a role in your search ranking. When viewing the theme demo, see how long the website takes to load … do the images load immediately?
Test the theme out in one for these tools:
Security
There is a lot you can do to secure your website and prevent a WordPress crisis, read more about that here. In saying so, there are also a lot of things you don't necessarily have control of. Read about the theme on community websites as opposed to the developer website – this way ALL customer reviews, positive or negative, are displayed by default. If a theme has a security loophole, customers will have picked up on it and flagged it in their reviews for future customers.
A quality WordPress theme built by a knowledgable developer should offer continuous support and the documentation for provisioning and the ongoing maintenance of your site.
Support
You'll want a theme that offers support and most premium themes offer 1 year of support after date of purchase.
Documentation / Tutorials
Every theme is different so you'll want a theme that offers documentation and tutorials to set up. Again, typically all premium themes will provide this upon purchase.
Community/Forums
Even though your theme comes with support, having the option of community or a forum to answer some basic questions is always a bonus. You'll want to look for how quickly the response to support requests are and the quality and detail of each answer.
Where do you find a Quality WordPress Themes?
You know what to look for in a quality WordPress theme but where do you find one? Locating a theme that you can trust and that's right for your business isn't simple especially with the thousands and thousands of themes claiming to be "the best".
Theme Vendors
WordPress has hand selected a list of high quality theme vendors that they trust and therefore makes the purchase a little easier for the user. Seeing as WordPress recommends it, you are likely to get 'bang for your buck'.
https://wordpress.org/themes/commercial/
Theme MarketPlaces
Theme Marketplaces offer a variety of themes from different developers, and depend on the community to rank each theme. Although you shouldn't fully rely on the reviews when making a decision, it is a useful way to depict a good theme from a great theme.
For example, if you're deciding between a theme with 2 decent reviews and a theme with 100 great reviews, the decision would be pretty simple.
Three 'Theme Marketplaces' To Check Out:
Quality theme vendors sell beautiful, well-developed themes and could have one that's right for you, however we recommend searching for a theme from a marketplace. One of the biggest advantages is that you'll have plenty of information and data to help you in your decision making process.
ThemeForest
ThemeForest is one of the more common marketplaces and caters to every niche of website.
The pricing typically ranges from $40 to $60.
MOJO Themes
MOJO Themes has 1,000's of WordPress themes for many different categories.
The pricing is on the lower end ranging from $16 to $58.
Elegant Themes
Elegant Themes operates under a different model providing you with many high-end, detail oriented themes for an annual price of $69.
Final Thoughts.
Spending the time doing the research and selecting the right theme will pay off. Be sure to take notes of what you're looking for and compare the themes, read reviews and use the tools provided to ensure the WordPress theme you've selected is developed properly.
Do you have a theme that you'd recommend? Tweet us @intuitionnet and tell us.
Thanks for reading!
---
Suggested Links:
Posted on
October 1st, 2016
and last modified on
October 18th, 2016.