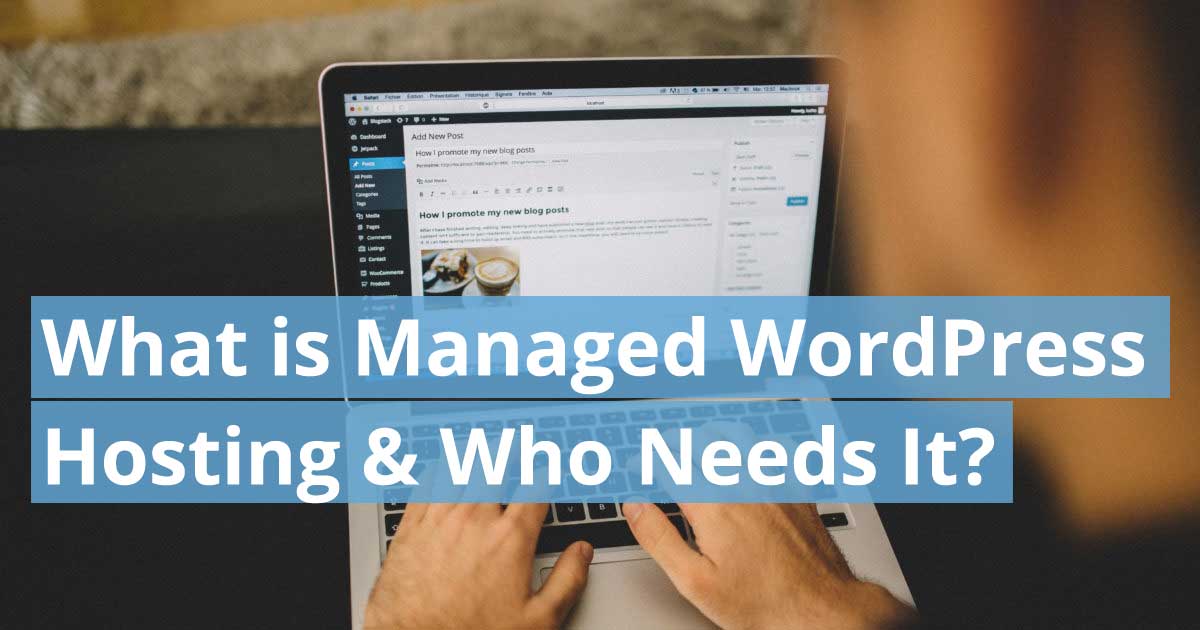 Managed WordPress Hosting
Are you new to WordPress or looking to switch to a new hosting provider? If you've started to research web hosting providers you're probably aware that there are hundreds of companies offering similar features. The prices can vary drastically, typically with the lower end of the spectrum being based on a self-service shared plan and the higher priced services as a full service, Managed WordPress Hosting. What's the difference?
This article will explain the difference between Managed WordPress Hosting and your average hosting plan, the perks of a premium service and how you can benefit from a Managed WordPress Hosting Plan.
What is Managed WordPress Hosting?
Managed WordPress Hosting usually means that all technical aspects of running WordPress are managed for you by your provider. The hosting provider will likely guarantee features such as speed, uptime, backups, security and more. They can do this because their service will be specifically designed for hosting WordPress.  The idea behind Managed WordPress Hosting is to offer a completely hassle-free hosting experience so that you can spend less time dealing with hosting problems and more time focusing on the growth of your business.
To make a comparison, with your average web hosting plan (shared, VPS, or dedicated) you are the one responsible for maintaining your WordPress install – keeping WordPress up to date, staying on top of security vulnerabilities, optimising the installation for speed, making sure backups are being taken and making sure your website isn't experiencing any downtime. It can be a gruelling task if you lack the expertise and/or the time to commit to it.
The question is, would you spend a little more money to know your website is in the hands of experts? If your website is an important part of your business, downtime, or defacement due to hacking isn't something you can afford. Read on to learn more about Managed Service Providers and the benefits they provide for you and your business.
What's the advantage of Managed WordPress Hosting?
Managed WordPress Hosting is a package deal that usually consists of the following features.
SPEED: The WordPress installation will be optimised for speed – automatic caching, tuned web server software and database layers all put together using the experience gained by the Managed WordPress Provider. Further, it's likely that your site will not be squeezed onto a low powered server with thousands of other sites like it would with a typical shared hosting plan. The benefit is that your website will always respond quickly, no matter how much traffic it receives.
SECURITY: Managed WordPress Hosting providers will often 'harden' your WordPress installation and add extra layers of security so that there is less chance of your website falling victim to malicious software attacks. The provider will likely also provide guidance as to disallowed plugins or themes based on their wide experience.
AUTOMATIC UPDATES: As WordPress security patches are fixed and released, your WordPress installation will be automatically updated.
BACKUPS: Your website will be backed up – usually every day and stored in offsite locations. In the event of an emergency, you can contact your hosting provider and feel relieved to know you can restore your website from an earlier version.
NO DOWNTIME: Uptime is usually guaranteed as redundancy measures are put in place to make sure that your WordPress installation carries on working every if hardware or power failure were to occur.
EXPERTS: Most Managed WordPress Hosting Providers will be experts in their field, with years of experience working with WordPress – this means that you will benefit from their experience and expertise.
SUPPORT: Lastly, if you were to encounter a problem and needed expert assistance, most Managed WordPress Hosting plans will provide you with an effective, timely support solution. They will likely have dealt with almost every issue you could imagine so don't worry about technical terms – that's what they are there for.
There's no doubt that these features come at a cost when compared to 'standard' shared server hosting. However, if your web presence is important to you, you should weigh up the increased costs against the likely hood that your site will be slower and that there is an increased chance of downtime or security incident.
That leads us to our next question, who needs Managed WordPress Hosting?
There are many factors to take into consideration all dependent on what you're looking for in your hosting provider.
If you run a small business or a blog with high traffic, a Managed WordPress Hosting plan will likely be of benefit. Paying for a premium service will free up your time and resources so that you can focus on your business, safe in the knowledge that your WordPress website is online, up to date, secure and backed up.
If you have a very basic website where downtime isn't a problem or if your website were to be defaced or hacked your brand would not be affected, then Managed WordPress Hosting may not be necessary for you at this time. You may prefer to go down the shared web space route until you start to grow or your website evolves.
Now, if you fit in neither of those descriptions but simply lack the technical skills to configure and manage your WordPress installation and just want to make sure your website is in safe hands, then paying experts to could save you from a lot of headaches. In this case, dependent on the size and direction you are taking your business, you have two options 1) to hire a web developer who has the skills to maintain your WordPress powered website or 2) you could choose a reputable Managed WordPress Hosting provider. 
[Infographic] See a detailed comparison between Shared and Managed WordPress hosting in a detailed infographic shared by WP Shrug.
Do you use a Managed Service Provider? If so, tweet us (@intuitionnet) and let us know about your experiences.
Thanks for reading!
---
Suggested Links:
Posted on
August 23rd, 2016
and last modified on
February 2nd, 2017.