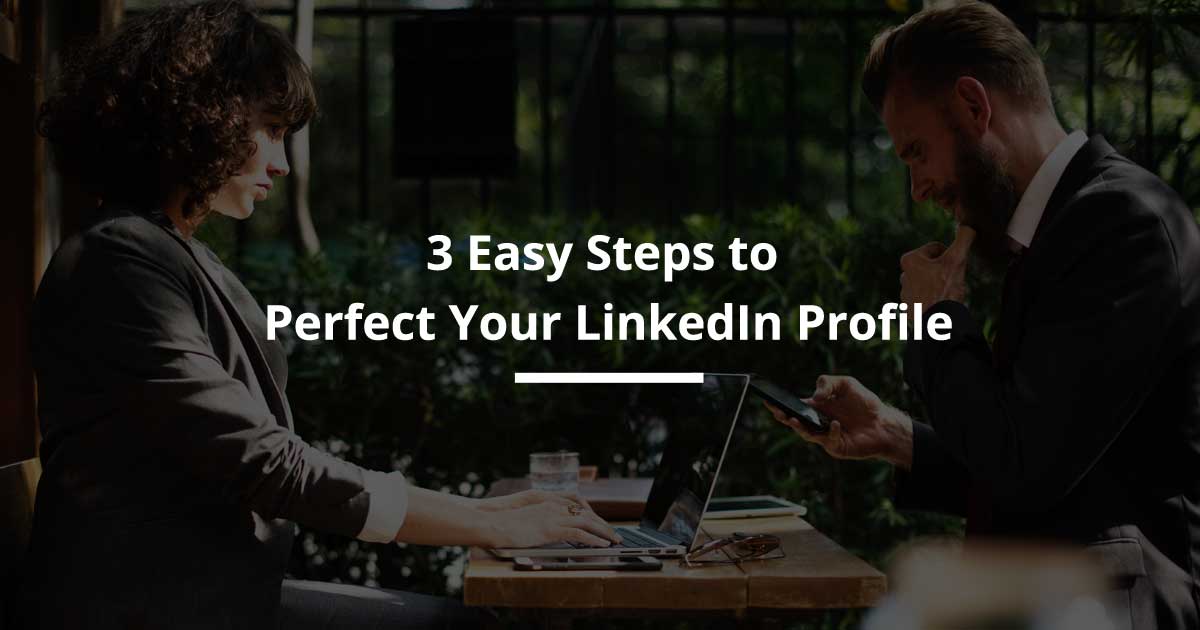 LinkedIn is a professional platform that individuals and businesses use to connect with one another. With millions of users worldwide, LinkedIn is a difficult place to stand out and many users are unsure how to present themselves and their accomplishments in a way that promotes networking and professional relationships.
While this can be challenging, there are many steps that LinkedIn users can take to improve the quality of their profile and maximise networking opportunities in the industries or areas they desire. Below are a few tips on achieving this goal.
1. Make a Good First Impression
Before you start to network, it's important to set up a profile that makes a good first impression for prospective employers, employees, and colleagues.
Professional photo
A profile picture is arguably the first thing users see when they land on your profile. In order to make a good first impression, this photo must present you in a professional manner. This photo should not be a selfie, vacation photo, photo featuring your pet, etc.
When choosing your profile photo, be sure to select an image that is:
High quality – not blurry or cropped
Headshot – clearly shows your face
Individualised – focus on you alone
Updated – recent photo
Headline and summary
Both the headline and summary of your profile are important to making a good first impression to other LinkedIn users. In just 120 characters, the header should be used to grab the attention of those viewing your profile with clear and valuable information. In the summary section of your profile, you should provide users with more details about who you are and what you bring to the table.
The header and summary you choose must be:
Unique – specific to you and not just the default (your current job title)
Compelling – entice users to read the rest of the profile
Professional – use language that is effective and diverse
Avoid using common buzzwords such as motivated, responsible, passionate, etc.
2. Engage, Interact, Communicate!
Networking begins with interactions. As a user, you should make sure that your interactions are professional, effective, and encourages a relationship to develop.
Join groups
Whether you have signed up to every group or none at all, curating groups based on your desires, industry, and location is a great way to network with other LinkedIn users. By prioritizing and carefully choosing which groups to interact with, you can maximise the amount participation in each group, and thus maximise your opportunity to create meaningful connections.
Groups you should consider joining to increase networking:
Education – networking in groups of your schooling, such as university alumni, to preserve and maintain these relationships
Industry – networking in groups of your field of work to foster new relationships
Initiate connections
If there is any business or individual that you want to connect with, introducing yourself is a great way to start. Make the first move! By putting yourself out there and extending a hand, you can create new connections and will be pleasantly surprised with the response you get in return.
Here are some ideas on ways to initiate connections:
Personalise invitations – customise your invitation to other users by describing who you are, where you met, or even why you wish to connect with them
Post and comment – engage in group or public threads to initiate discussion and create new connections
3. Connect your spaces
Searching the LinkedIn website is not the only way to professionally network. It may also be beneficial to connect your LinkedIn space with your other professional spaces.
Public Profile Badges
Since searching LinkedIn can be challenging, one way to make it easier for users to find you is through public profile badges. This feature allows you to embed your public LinkedIn profile on any website or blog, as a means for those in other spaces to connect with you easily on LinkedIn. This networking tool is available for individual users as well as businesses and can be customised to your own preference.
LinkedIn Plugins
Another type of generated button that LinkedIn offers, similar to public profile badges, is the plugins. These buttons can also be embedded into any of your websites or blogs, and allow users on your websites and media to connect to your LinkedIn with just one click. This networking tool is also available for individual users as well as businesses and can be customised to your own preference.
Call to Actions
As a way to feature other professional spaces on your LinkedIn profile, you may choose to implement a call to action. By showcasing certain information on your profile, you allow users increased access to who you are, what you do, and your accomplishments.
Here are some things to consider featuring in your call to action:
Contact information – phone number and email
Other professional spaces – websites and social media
Final thoughts
Since entering the social media age, LinkedIn has climbed in popularity and is now one of the most used professional platforms around the world. Although it can be challenging to make connections, the above steps can help users improve their LinkedIn profile and expand their professional network.
Thanks for reading!
---
Suggested Links:
Posted on
August 25th, 2017
and last modified on
August 25th, 2017.